As the administration and Congress work to adequately resource the U.S. military, an objective assessment of both the threats and the state of our armed forces is vital. One of the key resources available for policymakers is The Heritage Foundation's Index of U.S. Military Strength. This index is the only non-governmental assessment of the global threats while analyzing the U.S. military's capacity, capability, and readiness to defend America.
Key Takeaways
Congress has approved a $716 billion national defense budget for 2019; up from just under $700 billion in 2018.
Unit readiness across the military has improved due to the greater availability of equipment necessary for training and increased funding for more training cycles.
Fighter pilots on average will receive just 139 hours of flight time in 2018, a far cry from the Cold War standard of over 200 hours per year.
From 2017-2018, the U.S. Army has increased its number of ready combat-brigades from 10 to 15.
An Assessment of U.S. Military Power
America is a global power with global interests. Its military is meant first and foremost to defend America from attack. Beyond that, it is meant to protect Americans abroad, allies, and the freedom to use international sea, air, and space while retaining the ability to engage in more than one major contingency at a time. America must be able not only to defend itself and its interests, but also to deter enemies and opportunists from taking action that would challenge U.S. interests, a capability that includes preventing the destabilization of a region and guarding against threats to the peace and security of America's friends.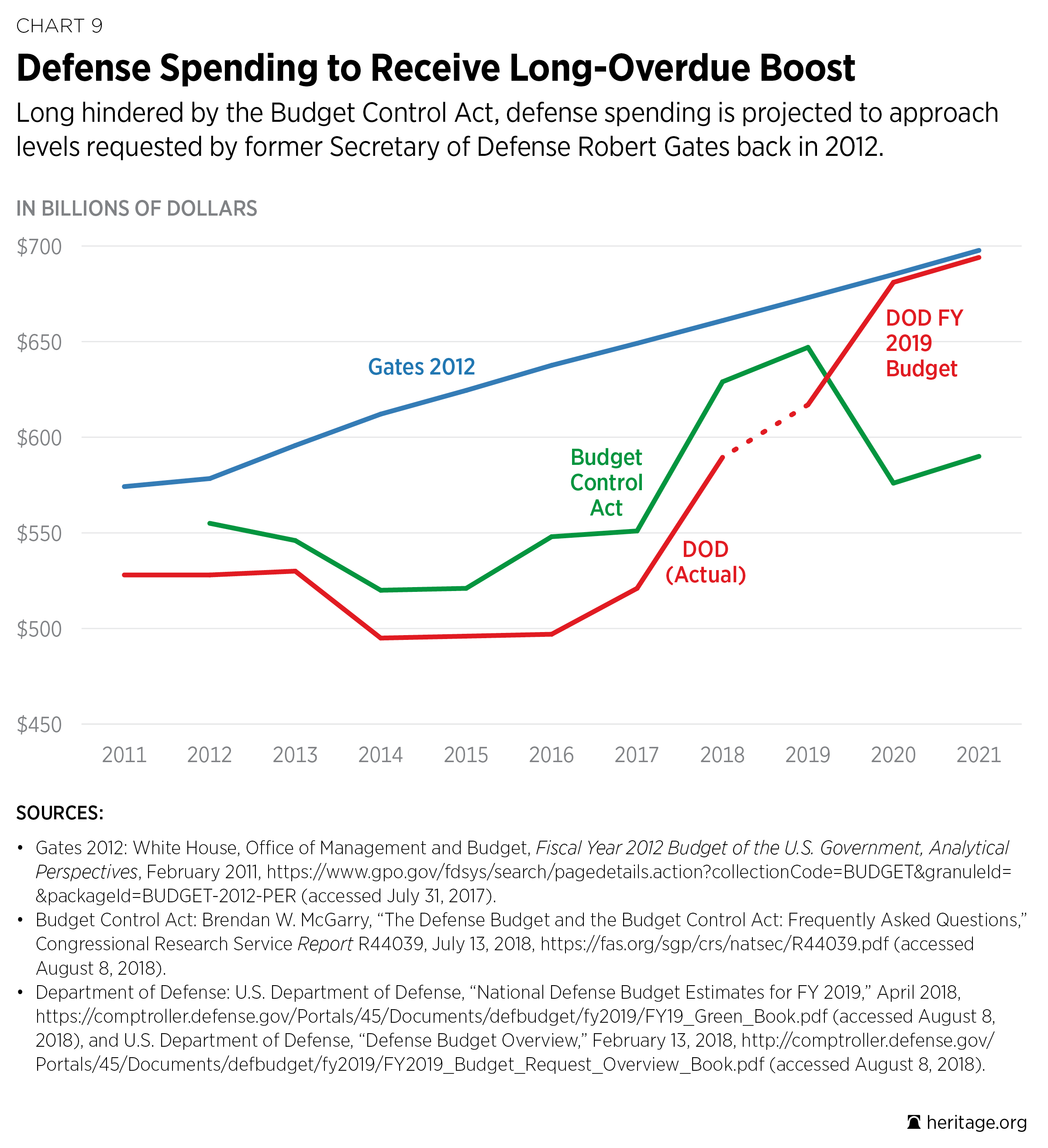 ---
Assessing Threats to U.S. Vital Interests
The United States is a global power with global interests. Scaling its military power to threats requires judgments with regard to the importance and priority of those interests, whether the use of force is the most appropriate and effective way to address the threats to those interests, and how much and what types of force are needed to defeat such threats.
This Index focuses on three fundamental, vital national interests:
Defense of the homeland;
Successful conclusion of a major war that has the potential to destabilize a region of critical interest to the U.S.; and
Preservation of freedom of movement within the global commons: the sea, air, and outer space domains through which the world conducts business.

---
Assessing the Global Operating Environment
Measuring the "strength" of a military force—the extent to which that force can accomplish missions—requires examination of the environments in which the force operates. Aspects of one environment may facilitate military operations, but aspects of another may work against them. A favorable operating environment presents the U.S. military with obvious advantages; an unfavorable operating environment may limit the effect of U.S. military power. The capabilities and assets of U.S. allies, the strength of foes, the geopolitical environment of the region, and the availability of forward facilities and logistics infrastructure all factor into whether an operating environment is one that can support U.S. military operations.

Go here for more: https://www.heritage.org/military-strength
---
---
If you would like to schedule an appointment with one of our experts or request a copy of our special report, the "2019 Index of U.S. Military Strength," please contact Brandon Palumbo for further information.
Heritage Policy Outreach Team
214 Massachusetts Avenue NE | Washington, D.C. 20002 | (800) 546-2843