by Dan Mitchell
I'm not a fan of Crazy Bernie, to put it mildly.
His policies would turn us into serfs and condemn people to poverty and deprivation.
But the silver lining of that dark cloud is that he is the unwitting source of some great humor. And that's our topic today.
We'll start with a brutal tweet. I don't know @djPaulMarco, but – as the youngsters say – he dunked on the Vermont Senator.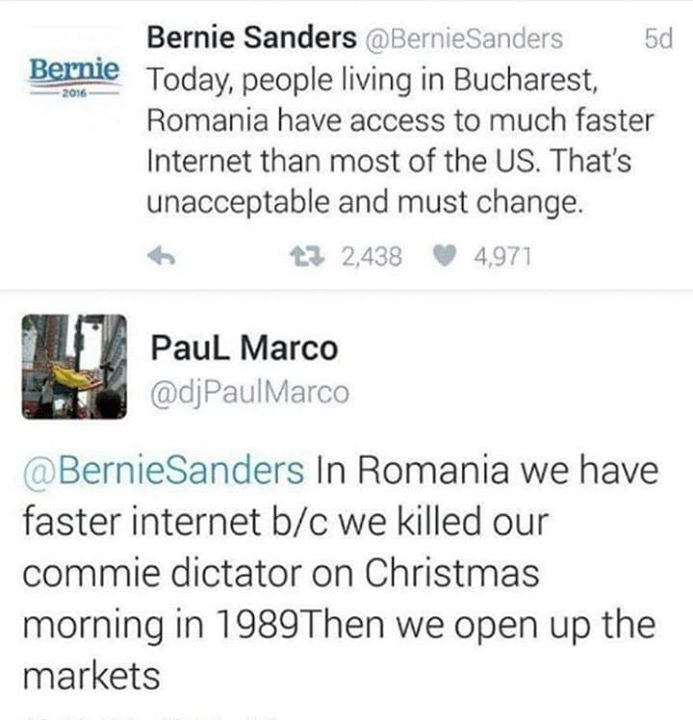 Next we have some politically oriented humor.
I like to think this isn't what really motivates Bernie's young supporters, but you have to wonder what's rattling around in their heads.
Sticking with the political theme, Ms. Ocasio-Cortez (who also is a great target for mockery) technically will still be too young to be on the ticket in 2020, but this bit of humor aptly describes the direction America will be heading if the so-called Green New Deal gets imposed on the country.
And since Senator Sanders wants government-coerced equality, I'm sure he'll support this idea.
Especially since the DNC did this to him back in 2016.
The same principle apparently applies to yard signs as well.
Now let's shift to public policy, though this next image also illustrates the socialist approach to vote buying.
In any event, it captures the essence of socialist economics.
A good theory, until there's nobody left to do the buying.
Speaking of drinks, here's a Bernie special offer.
I'm also a huge fan of this clever satire. Very appropriate to close with this item given what I wrote last weekend.
For other examples of Bernie humor, you can click here, here, here, here, here, here, and here.
by Dan Mitchell
Daniel J. Mitchell is a leading expert on fiscal policy issues such as tax reform, the economic impact of government spending, and supply-side tax policy. Mitchell is a strong advocate of a flat tax and international tax competition. Prior to joining Cato, Mitchell was a senior fellow with The Heritage Foundation, and an economist for Senator Bob Packwood and the Senate Finance Committee. He also served on the 1988 Bush/Quayle transition team and was Director of Tax and Budget Policy for Citizens for a Sound Economy. His articles can be found in such publications as the Wall Street Journal, New York Times, Investor's Business Daily, and Washington Times. He is a frequent guest on radio and television and a popular speaker on the lecture circuit. Mitchell holds bachelor's and master's degrees in economics from the University of Georgia and a Ph.D. in economics from George Mason University. Original article can be viewed here.