My personal favorite pork item is this one for the Kennedy Center in Washington D.C. God forbid the Congress should be deprived of opera and plays! Read the Dems wish list that the President has already indicated he won't sign even if it should pass.
Democrats believe #coronavirus can be cured by providing $35 million in funding to the John F. Kennedy Center for the Performing Arts. pic.twitter.com/i26vSzhiYU

— toddstarnes (@toddstarnes) March 24, 2020
Republicans had a deal until Nancy Pelosi rode into town from her extended vacation. The Democrats want the Virus to win? They are asking for things that have nothing to do with our great workers or companies. They want Open Borders & Green New Deal. Republicans shouldn't agree!

— Donald J. Trump (@realDonaldTrump) March 24, 2020
Carlos went through the entire Bill and highlighted the "Santa in March" list that Schumer and Pelosi are ransoming the Administration with. There's everything in here. As an older person approaching retirement ending dividends on shares scared me! Below this Tweet is the entire thread copied out for you. Read and weep. And don't forget this come November when we are asked to vote.
March 24, 2020
Thread is copied below.
Here's what's in Nancy Pelosi's financial rescue bill, the Take Responsibility for Workers and Families Act.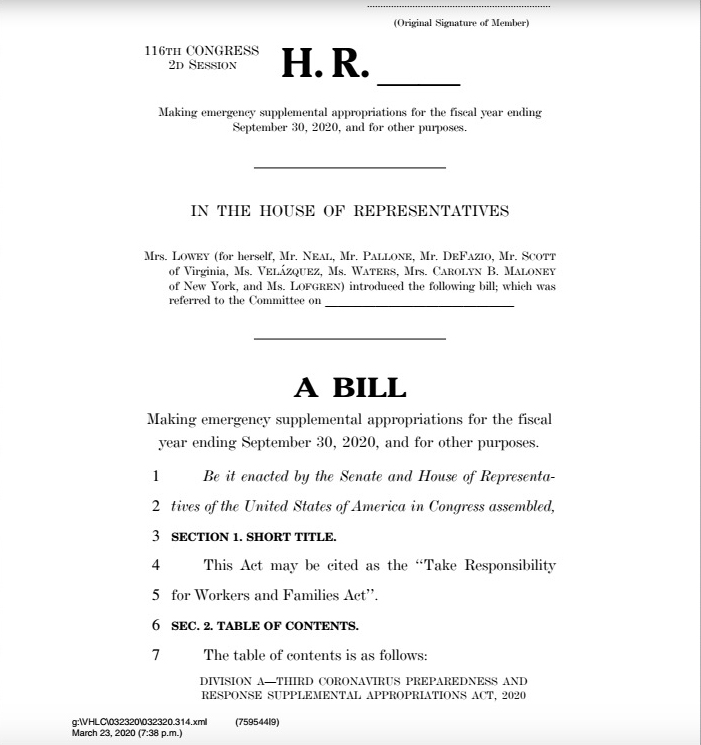 $45 million for agricultural marketing services.
$33 million for child nutrition programs.
$15 million for minority business development.
$32 million to the National Oceanic and Atmospheric Administration to fight climate change. $100 million for programs to prevent violence against women.
$25 million for women's shelters.
$100 million for assisting victims of sexual assault.
$25 million for rural domestic violence programs. $100 million for research grants in the National Science Foundation.
$100 million for the Legal Services Corporation.
$200 million for the Community Development Financial Institutions Fund Program Account. Homeland Security must suspend compliance with immigration laws if it creates "hardships" for the person in question.
The Administrative Procedure Act is suspended.
Immigrants' work visas are automatically extended by one year. $7 million for "wildland fire management."
$78,000 to the Institute of American Indian and Alaskan Native Culture.
$300 million for grants at the National Foundation on the Arts and the Humanities.$120 million for community service employment for older Americans.
(Okay. I'm going to scroll down and see when I find money actually going to the private sector and not the government.) The first 700 pages of the 1400-page bill is money to government bodies.
Page 710 is the first mention of the private sector.
The bill creates the COVID-19 Aid Oversight Panel for the private sector. The panel will hold hearings. The Oversight Panel is granted unfettered access to the information held by any US government agency.
(Now we have billions going to Africa.) Okay.
Conditions for getting aid.
No bonuses to executives.
Golden parachutes are abolished.
No stock buybacks.
Dividends to investors are abolished.
Federal lobbying is abolished. "Accelerated filing" is available on the following PERMANENT conditions.
One third of the board or directors must be chosen by the workers.
Environmental and "social" reports must be submitted each quarter. Reports on workplace racial and gender demographics must be filed each quarter.
Reports on workforce culture and empowerment programs must be filed each quarter.
Reports on fostering a sense of purpose in the workforce must be filed each quarter. Permanent requirements for ALL corporations receiving aid.
Minimum wage of $15 an hour.
The CEO cannot be paid more than a ratio of 50 to 1 in relationship to the median worker wage.
Workforce and benefits must be immediately returned to what they were before COVID-19. The company may not alter any collective-bargaining agreements made before COVID-19.
Yeah, okay. I'm done.
This thing is DOA, as Trump said at his press conference. He spoke of it in the past tense. All it did was make all sane Americans hate the Democrats even more. As Trump said, the economy will roar back, so this little gambit was suicidal on every possible level.
Good.
END

Thread by @COsweda: Thread Attempt Number Three. Here's what's in Nancy Pelosi's financial rescue bill, the Take Responsibility for Workers and Families Act. ap…Thread by @COsweda: Thread Attempt Number Three. Here's what's in Nancy Pelosi's financial rescue bill, the Take Responsibility for Workers anamilies Act. apps.npr.org/documents/docu… $45 million for…https://threadreaderapp.com/thread/1242376735741456384.htmlMissing some Tweet in this thread? You can try to force a refresh. Tweet Share Email Embed