It's impossible to imagine the evil and/or the sickness that would lead a person to massacre strangers in a church.
But it's very easy to predict the political aftermath of such a tragedy. Folks on the left (some well-meaning, some not) immediately urge more gun control.
I have constitutional objections to their approach, but I realize that line of reasoning doesn't matter to the anti-Second Amendment crowd, so I generally focus the conversation on the practical shortcomings of such initiatives.
Let's focus on that last point, which is especially relevant since the death toll in Texas presumably would have been much higher if a good person with a gun didn't put a stop to the mayhem.
Here are some excerpts from the Washington Post's report on what happened.
Johnnie Langendorff stumbled into the crossfire in a total accident. …As he passed the church…he saw…A man clad all in black was…trading shots with another man holding a rifle. …The man in black hauled off in his SUV. The second man with the rifle — a neighbor identified Monday by Arkansas-based 40/29 News as Stephen Willeford — approached Langendorff. The two men were strangers. Willeford said his daughter heard gunshots at the nearby First Baptist Church and told him she'd seen a man in all-black attire… A former NRA instructor…, Willeford immediately sprung into action. …Willeford raced across the street to the church and confronted Kelley… Langendorff said Willeford "briefed me quickly on what had just happened and said he had to get him." "So that's what I did." …the two men shot off in pursuit in Langendorff's truck… Langendorff wove his truck at high speed through traffic while trying to catch the fleeing SUV. The speedometer crossed 95 mph while the driver narrated everything to law enforcement. …Kelley's vehicle…veered off the roadway and into a ditch… Langendorff pulled his own truck within 25 yards. …Police were on the scene within five to seven minutes… An autopsy of Kelley showed that he was shot twice — once in the leg and again in the torso — before shooting himself in the head… On Sunday night, Langendorff explained that his reaction — jumping into a car chase — was a simple calculation. "He just hurt so many people, he affected so many people's lives, why wouldn't you want to take him down?"
The Wall Street Journaleditorializes on some of the implications.
…forgive us if we focus on Stephen Willeford, the local plumber who saved lives by grabbing his rifle and firing at Kelley. …The two locals are being hailed as heroes since their quick action was the only deterrent to more murders until police arrived. 

Kelley, who was discharged from the Air Force for bad conduct, should not have been able to obtain a gun legally, but the Journal reports that the military failed to send his conviction record to the FBI. The harsh reality of mass murders is that often only the presence of someone with a legal weapon to shoot back can stop the rampage. …No one wants crowds of vigilantes looking for someone to shoot, but we're sure glad Stephen Willeford had a rifle and knew how to use it.
Rich Lowry of National Reviewapplauds the heroism of the two Texans who acted to save lives.
Before the Texas church shooter encountered any police officers, he was run off a highway and dead. He had been shot and chased by two private citizens who took it upon themselves to respond to a heinous crime when no one with a badge was anywhere to be found. …The response by the two bystanders who refused to stand by…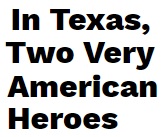 was a characteristically small-town American act of self-reliance that shows, no matter how tattered our civil society may be, it still produces people who will risk life and limb for others without hesitation, unbidden by anything other than their own sense of obligation. When Stephen Willeford, 55, heard of the shooting, he left his house barefoot with his AR-15 and started exchanging fire with Kelley outside the church. An expert shot, Willeford hit Kelley and reportedly aimed for the gaps on his body armor. When Kelley got in an SUV and sped off, Willeford jumped in Johnnie Langendorff's truck and told him to give chase. …Willeford and Langendorff would have been justified in considering their work done when the shooter left the scene of his massacre. They would have been justified in considering it done when he crashed his vehicle. They instead were prepared for another gunfight in the cause of incapacitating him themselves.
And he warns about the real-world implications of gun control.
Any gun-control measure that is sweeping enough to make a dent in the country's gun stock and render gun ownership difficult enough to, at the margins, keep firearms out of the hands of psychopaths will inevitably affect law-abiding people as well. In places like rural Texas that would rightly be considered a serious imposition. Without a gun, if something goes wrong, the only option is sitting and waiting for the authorities to show up.
Amen. Cops play an important role, but usually after a crime is committed. As this image illustrates, when seconds count, the police are minutes away.
So let's make life harder for bad people by letting good people defend themselves.
By the way, some people are blaming the Air Force for failing to place the murderer into the system since that would have barred him from legally buying a gun. I'm sure that was an oversight rather than a deliberate decision, so I'm reluctant to make that a big issue. I'm actually more concerned that this dirtbag abused his family and fractured the skull of a one-year old child, yet was jailed for only one year.
Call me crazy, but that seems ludicrously lax. Heck, we put old people in jail for five times longer for trivial offenses such as failing to file a form. Shouldn't grievous bodily harm to an infant have harsher implications? This is almost as crazy as fining a gun owner $1,000after he saved a child's life.
Let's conclude by returning to the main issue of today's column. In the past, I've joked about gun-loving Texans (the difference between conservatives, liberals, and Texans, the Texas v. Europe approach to fighting terrorism, and Texas, California, and the coyote), but today let's be glad one of those guys used his "assault rifle" to save lives.