A frilled shark (Chlamydoselachus anguineus) is a species that is often termed a 'living fossil' because of several 'primitive' features that have survived for millions of years, has been captured off the coast of Portugal's Algarve region, the country's meteorological and sea institute has announced. Fossils of the same species have been found that date back millions of years.
The animal was a male, 1.5 metres in length, and was fished in August at a depth of 700 metres, the Portuguese Institute for the Sea and the Atmosphere (IPMA) said in a statement released on Monday.
According to the statement, the species has "a long, slim body and a head that is reminiscent of a snake" and "its biology and ecology are little known".
Prehistoric, Dinosaur-Era Shark With Insane Teeth Found Swimming Off Coast of Portugal:https://t.co/JjxqukvA4z#FrillShark #Shark pic.twitter.com/Ih5C7R4mva

— weareCERV (@weareCERV) November 12, 2017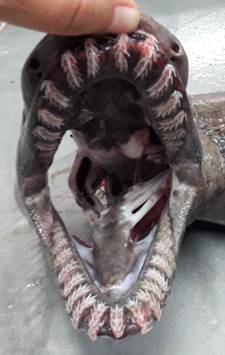 The frilled shark is found across the Atlantic, including off the coast of Norway and in the waters of Scotland, Galicia in Spain, the Azores, Madeira and the Canary Islands, as well as in the Indian and Pacific Oceans, namely off Japan, Australia and New Zealand. It is rarely caught because it lives at such great depths. The ones we see closer to the surface are rare and it's believed they come up to feed or die.