Poop in California is a direct result of a failure in local government. And NIMBYs (Not in my backyard).
Back in 2012, I was both amused and horrified to learn that the Greek government actually required entrepreneurs to submit…um…stool samples if they wanted to set up online companies.
Well, there's apparently a surplus of that…er…material on the streets of San Francisco. A local radio station even shared a map of places to avoid (or to seek out, who am I to judge?).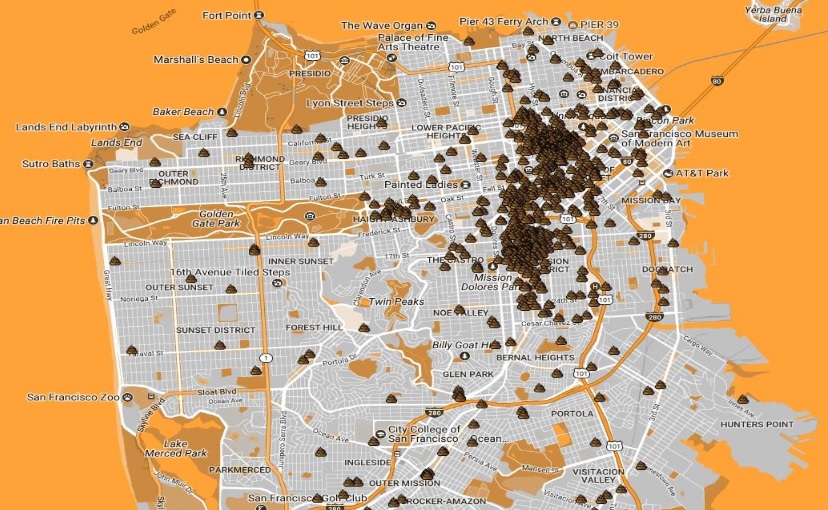 It's become such a big problem that the city's government decided to act. But instead of enforcing rules against public defecation, they've created a new bureaucracy. I'm not joking.
Some people are questioning the city's priorities, as reported by the Sacramento Bee.
San Francisco's…flush with potty problems — the city has received 14,597 complaints about feces on its sidewalks since January… Now city leaders have unveiled plans for a six-person poop patrol to try to address the issue…But the very concept of a poop patrol inspired skepticism, mockery and, yes, poop emojis… "Instead of telling people to USE A BATHROOM!! San Francisco is going to send out a pooper scooper Patrol to pick it up," wrote one person. "Lord help us all." …Others posting to Twitter had questions. "Will the poop patrol get hazardous duty pay?" asked one person, while another wanted to know.
Business Insider has details about this new "poop patrol."
In San Francisco, you can earn more than $184,000 a year in salary and benefits for cleaning up feces. As members of the city's "Poop Patrol," workers are entitled to $71,760 a year,plus an additional $112,918 in benefits… The staffers will begin their efforts each afternoon equipped with a steam cleaner for sanitizing the streets. The full budget for the initiative, $830,977, signifies a concerted effort to address the city's mounting feces problem, which has resulted in more than 14,500 calls to 311.
That's a lot of money, though this is a rare instance of where I won't make my usual argument about bureaucrats being overpaid.

In any event (as is so often the case), bad government policy is the root cause of the problem.
While the high salaries of sanitation workers may incentivize further cleanup, the city will ultimately have to contend with its affordability crisis if it hopes to eliminate the problem. That would mean addressing restrictive zoning laws that make it both difficult and expensive to add affordable developments.
Yes, there's this simple concept called supply and demand. And when San Francisco politicians don't let people use their property to create more housing, then ever-higher prices are an inevitable result. But I guess they are too busy dealing with real problems…such as toys in Happy Meals.
To be sure, I'm not under any illusion that abolition of zoning laws and creation of a laissez-faire housing market would completely solve the poop problem. Much of that anti-social behavior is probably linked to mental illness and/or drug abuse.
But less zoning would mean less s**t. Seems like a compelling bumper sticker to me.
P.S. I don't know if this story belong in my series on "Great Moments in Local Government" or if the poop patrol belongs in the "Bureaucrat Hall of Fame."
P.P.S. Things can always get worse. Senator Kamala Harris has a hare-brained proposalthat would trigger even higher prices for rental housing.
P.P.P.S. San Francisco also has a poop problem even when people use toilets instead of sidewalks.