Time for another edition of our long-running battle between the Lone Star State and the Golden State.
Except it's not really a battle since one side seems determined to lose.
For instance, Mark Perry of the American Enterprise Institute often uses extensive tables filled with multiple variables when comparing high-performing states and low-performing states.
But when comparing California and Texas, sometimes all you need is one data source because it makes a very powerful point. Which is what he recently did with that data on one-way U-Haul rental rates between California cities and Texas cities.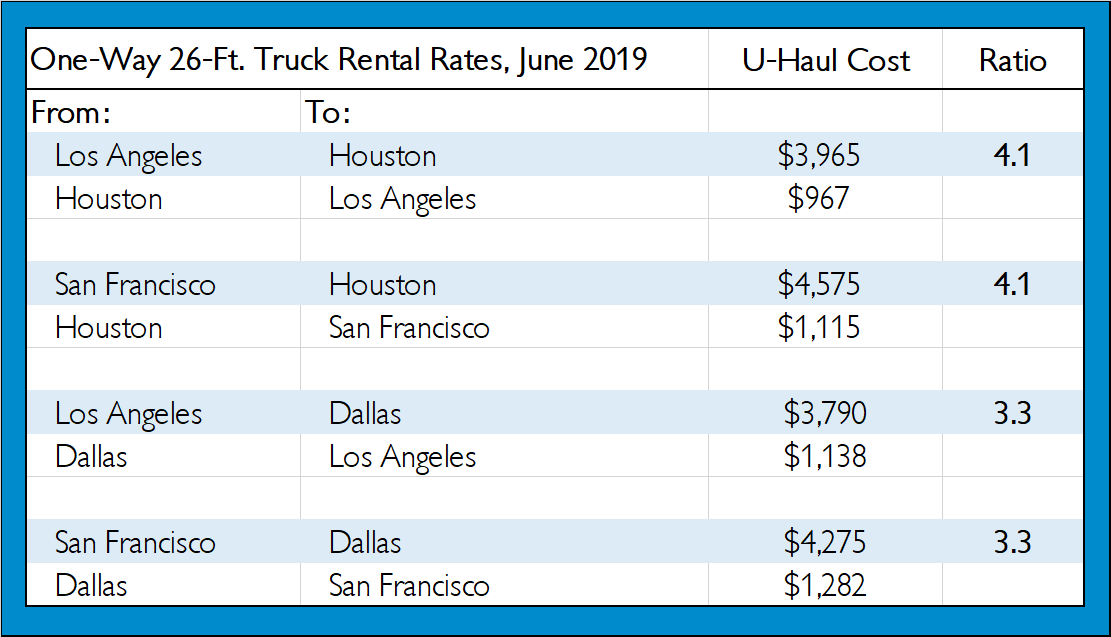 There's a very obvious takeaway from this data, as Mark explains.
…there is a huge premium for trucks leaving California for Texas and a huge discount for trucks leaving Texas for California. …U-Haul's one-way truck rental rates are market-based to reflect relative demand and relative supply. In California there's a relatively low supply of trucks available and a relatively high demand for trucks destined for Texas; in Texas there's a relatively high supply of trucks and a relatively low demand for trucks going to California. Therefore, U-Haul charges 3-4 times more for one-way truck rentals going from San Francisco or LA to Houston or Dallas than vice-versa based on what must be a huge net outflow of trucks leaving California (leading to low inventory) and a net inflow of trucks arriving in Texas (leading to high inventory). …in 2016…the ratios for the same matched cities were much smaller, 2.2 to 2.4 to 1, suggesting that the outbound migration from California to Texas as reflected in one-way U-Haul truck rental rates must have accelerated over the last three years.
So why is California so unattractive compared to Texas?
To answer that question, this map from the Tax Foundation is a good place to start. It shows that California has the most punitive income tax of any state, while Texas is one of the sensible states with no income tax.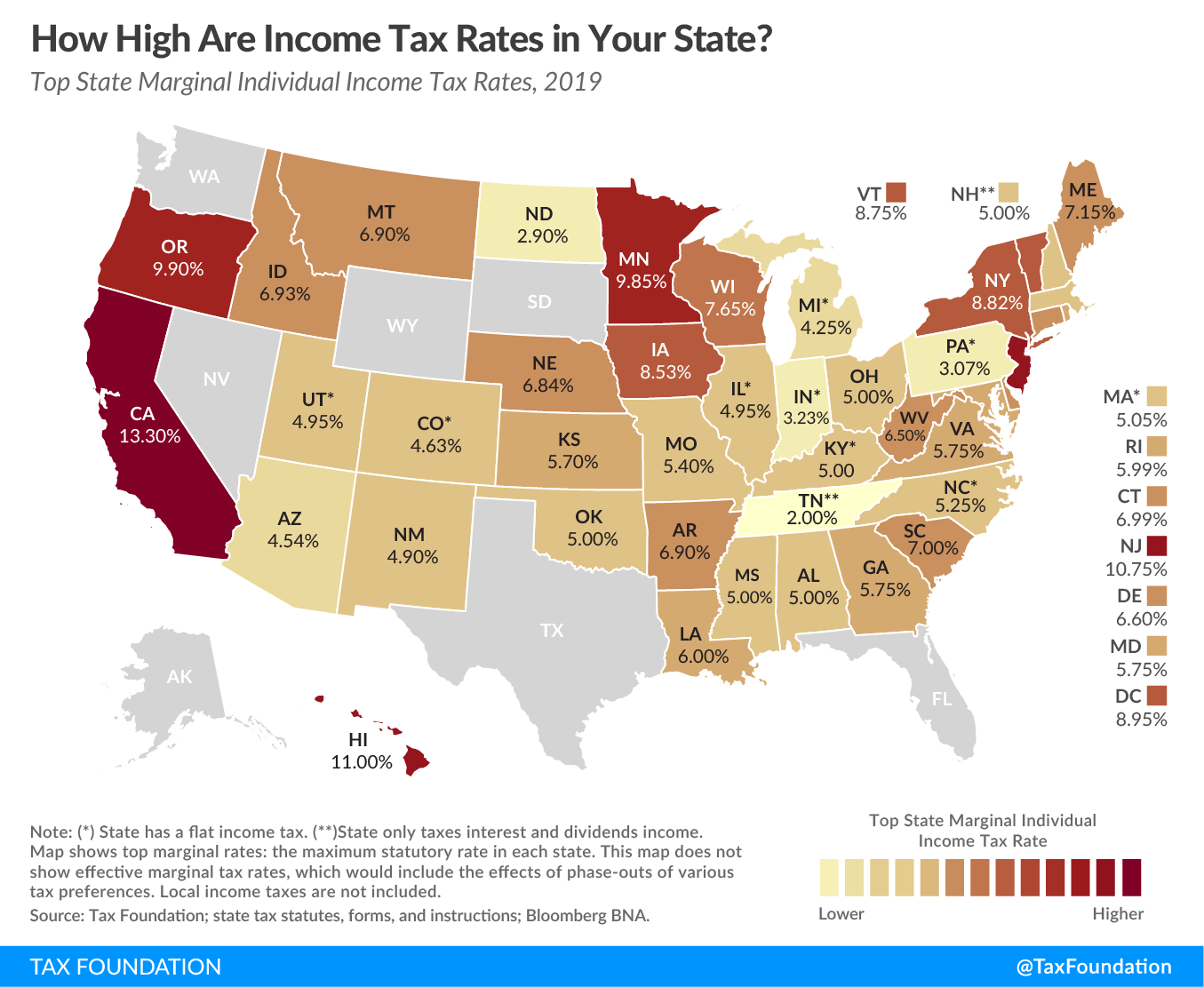 By the way, I sometimes get pushback from my leftist friends who point out that California's 13.3 percent tax rate only applies to millionaires.
I don't think that's an effective argument since it makes zero sense to penalize a state's most productive citizens. Especially when they're the ones who can easily afford to move (and many of them are doing exactly that).
That being said, California pillages middle-class taxpayers as well. If some trendy young millennial wants to live in San Francisco, I wish that person all the luck in the world – especially since the 8 percent tax rate kicks in at just $44,377.
Now let's ask the question of whether California residents (rich, poor, or middle class) are getting something for all the taxes they have to pay.
Is there any evidence that they are getting better schools? No.
How about data showing that they get better health care? No.
What about research indicating better infrastructure in the state? No.
Instead, they're paying for a giant welfare state and for a lavishly compensated collection of bureaucrats.
P.S. There's also plenty of international data showing big government isn't the way to get good roads, schools, and healthcare.
P.P.S. If you want more data comparing Texas and California, click here, here, and here.
P.P.P.S. Here's my favorite California vs Texas joke.
P.P.P.P.S. Comparisons of New York and Florida tell the same story.
Daniel J. Mitchell is a public policy economist in Washington. He's been a Senior Fellow at the Cato Institute, a Senior Fellow at the Heritage Foundation, an economist for Senator Bob Packwood and the Senate Finance Committee, and a Director of Tax and Budget Policy at Citizens for a Sound Economy. His articles can be found in such publications as the Wall Street Journal, New York Times, Investor's Business Daily, and Washington Times. Mitchell holds bachelor's and master's degrees in economics from the University of Georgia and a Ph.D. in economics from George Mason University. Original article can be viewed here.
Self-Reliance Central publishes a variety of perspectives. Nothing written here is to be construed as representing the views of SRC.