San Francisco used to be famous for cable cars.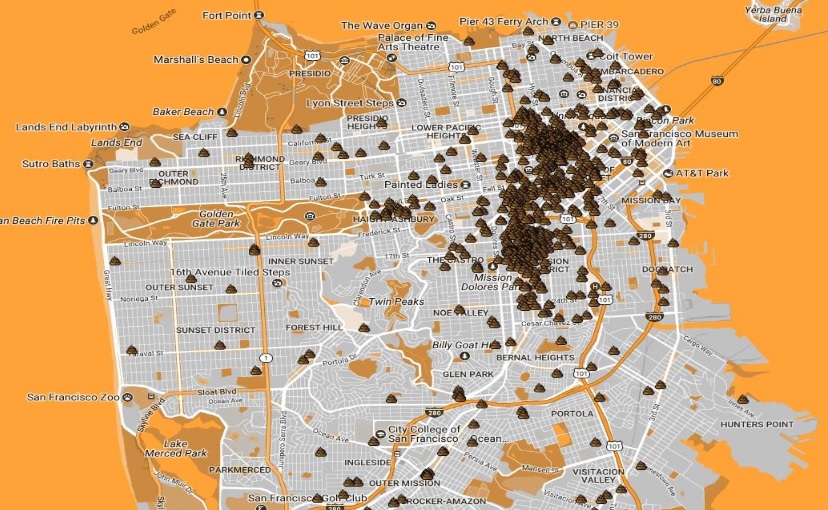 Now it's getting well known for its "poop patrol" and maps that warn people about the ubiquitous presence of human excrement.
Why are people defecating on city sidewalks? Because there's a major problem with government-created homelessness thanks to rent control and zoning restrictions.
And homelessness gives us our topic for today because we have an astounding example of government waste.
More specifically, a story from the San Francisco Chronicle nicely summarizes the efficiency and competence of the public sector.

An experiment to put a homeless shelter in a San Francisco public school gym has so far been a costly failure, …costing taxpayers about $700 for each person who spends the night….only five families have used the facility at 23rd and Valencia streets in the Mission, with an average occupancy of less than two people per night… The facility is completely empty several nights each month, Kositsky said, although shelter workers are on-site seven nights a week and through holidays, whether anyone shows up or not.
I've been to San Francisco many times. Hotels are not cheap.
But I've never had to pay anywhere close to $700 per night.
Though maybe this San Francisco program is a bargain since it costs the state $1.3 million per year to house a homeless person.
So why did the city create this boondoggle? For the same reason that many programs are created. Politicians and bureaucrats exaggerated about a problem.
Supervisor Hillary Ronen and the school's administrators…advocated for the shelter, saying there were dozens of families facing homelessness at Buena Vista Horace Mann who needed someplace to sleep. The principal at the time, Richard Zapien, said he had identified 60 families in unstable housing.
But here's a passage that captures the real story.
This program was created to funnel money to a non-profit group and I wouldn't be surprised to learn that officers of this group are supporters (campaign cash, get-out-the-vote, etc) of the politicians who created the program.
The city has been paying the nonprofit Dolores Street Community Services $40,000 per month to manage the shelter, and if it were to be successful, would spend up to $900,000 per year to serve up to 20 families at a time with all-night staffing, food and support services to help them find permanent housing.
In other words, we have another example of how government is a racket.
No matter how flawed and foolish a program may be, never forget that it's putting unearned money in the pockets of some group of people. And that group of people know how to play the game, since they then recycle some of the loot back to the politicians.
Politicians don't care if the money is wasted. They don't care if there's rampant fraud.
They're simply buying votes. With our money.
P.S. There is a sure-fire way of reducing this kind of corrupt behavior, but don't hold your breath expecting it to happen.
P.P.S. Though you may want to hold your breath if you visit the city.
Daniel J. Mitchell is a public policy economist in Washington. He's been a Senior Fellow at the Cato Institute, a Senior Fellow at the Heritage Foundation, an economist for Senator Bob Packwood and the Senate Finance Committee, and a Director of Tax and Budget Policy at Citizens for a Sound Economy. His articles can be found in such publications as the Wall Street Journal, New York Times, Investor's Business Daily, and Washington Times. Mitchell holds bachelor's and master's degrees in economics from the University of Georgia and a Ph.D. in economics from George Mason University. Original article can be viewed here.
Self-Reliance Central publishes a variety of perspectives. Nothing written here is to be construed as representing the views of SRC.