by Dan Mitchell
To the best of my recollection, it's been several years since I shared a collection of anti-politicians jokes.
Given the odious behavior of people in government, that's an oversight I'm going to rectify today.
Though I'm not sure if this first example is about politicians or about bureaucrats.
This next bit of humor reminds us that stereotyping is wrong…unless you're looking at the crowd in the lower frame.
Next we have a politician who promises to be a quick learner.
Here's an example of some Robin Hood-style redistribution we can all support.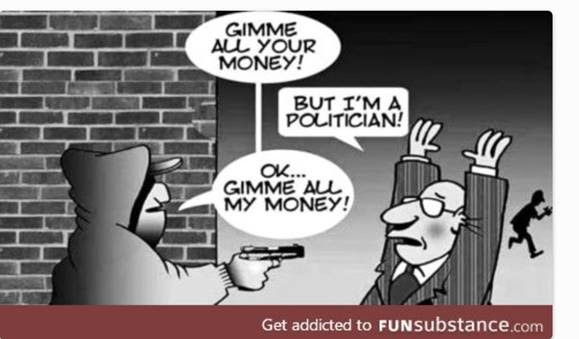 Our next-to-last item helps to explain why Washington is now the richest region of America, even though its main output is waste, red tape, and corruption.
I've saved the best for last.
I'll close with a serious point. Do bad people naturally gravitate to politics, or do the perverse incentives of politics turn good people into bad people?
Or does it even matter since the net result is the same?
P.S. I also have jokes about specific politicians, ranging from Bernie Sanders to Donald Trump (with appearances by Hillary Clinton, Barack Obama, Elizabeth Warren, and Bill Clinton).