Just like last year, April 15 isn't the official deadline this year for filing your annual tax return. But we're still going to "celebrate" with some memes about the income tax and the IRS.
We'll start with something that has always bothered me, which is the fact that many people look forward to filing their taxes because they get a refund.
Yet that simply means that they gave the government free use of their money because of excessive withholding!
It also galls me when IRS documents refer to customer service when none of us are voluntary participants.
That's the point of this next meme.
But we should have some sympathy for tax collectors.
They sometimes have a challenging job.

And since we're mocking our friends at the IRS, here's another item worth sharing.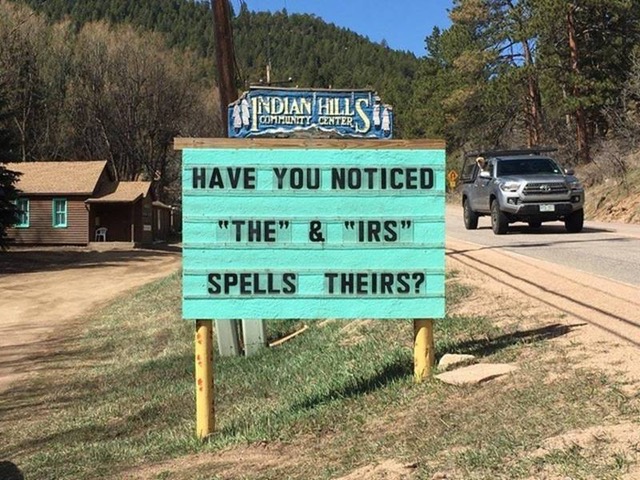 For our final IRS-focused bit of satire, let's turn to the Babylon Bee's report on taxation in outer space.
President Trump's new Space Force has been stealing the imagination of the public… Not to be outdone, the Democrats are now trying to show they can also look to the future with their new proposal: Space IRS. "We also are inspired by watching shows such as Star Wars," Nancy Pelosi told the press, "and seeing someone like Han Solo, a smuggler who is obviously avoiding taxes. …there has to be a way to follow someone like that and see how much he's spending at cantinas and sabacc tables and know that he's hiding income. That's the job of Space IRS."
Now let's shift to some satire about the economics of taxation.
Starting with this look at the Biden Administration's philosophy.
Next we have a woman with a Bernie Sanders mindset. I suspect the guy is about to learn an important lesson about incentives and marginal tax rates.
Here's a visual depiction of double taxation.
Here's some tax satire from the left about companies using international tax rules to minimize their fiscal burdens.
I can't resist pointing out two things in response.
If the corporate tax rate is low, companies have less incentive to utilize existing preferences in the tax code or lobby for the creation of new ones.
Our friends on the left don't seem to realize that the foreign-source income of American-based companies is subject to tax by foreign governments.
As usual, I've saved the best (in my humble opinion) for last.
Biden recently attacked the 2nd Amendment, and some clever person applied his thinking to the 16th Amendment.
P.S. My archive of IRS humor features a new Obama 1040 form, a death tax cartoon, a list of tax day tips from David Letterman, a Reason video, a cartoon of how GPS would work if operated by the IRS, an IRS-designed pencil sharpener, two Obamacare/IRS cartoons (here and here), a collection of IRS jokes, a sale on 1040-form toilet paper (a real product), a song about the tax agency, the IRS's version of the quadratic formula, and (my favorite) a joke about a Rabbi and an IRS agent.
Daniel J. Mitchell is a public policy economist in Washington. He's been a Senior Fellow at the Cato Institute, a Senior Fellow at the Heritage Foundation, an economist for Senator Bob Packwood and the Senate Finance Committee, and a Director of Tax and Budget Policy at Citizens for a Sound Economy. His articles can be found in such publications as the Wall Street Journal, New York Times, Investor's Business Daily, and Washington Times. Mitchell holds bachelor's and master's degrees in economics from the University of Georgia and a Ph.D. in economics from George Mason University. Original article can be viewed here.
Self-Reliance Central publishes a variety of perspectives. Nothing written here is to be construed as representing the views of SRC.