Just to recap: Ten days ago (Feb 3), in Ohio, a Norfolk Southern long train had derailed carrying uncured vinyl chloride, and local police blew it up despite the fact these are very toxic and reactive explosive chemicals. The damage is so bad, it's actively killing wildlife in the rivers and contaminating soil. An entire town can't return home because the water is contaminated, livestock and crops are destroyed.
Here's the inside skinny in this incredible video.
Best video I've found explaining the chemical aspect of the Ohio train disaster

Extremely toxic liquid vinyl chloride was leaking so authorities planned a "controlled burn" but that created hydrogen chloride acid that clings to water

Basically acid rainpic.twitter.com/gIsaKqm114

— DC_Draino (@DC_Draino) February 13, 2023
A "controlled vent and burn" of toxic chemicals at the train derailment in East Palestine, Ohio, went "as planned," and "no concerning" air and water quality readings have been detected, Pennsylvania Gov. Josh Shapiro said Monday night.
"For now, out of an abundance of caution, Pennsylvanians who live within two miles of East Palestine, where this derailment occurred, should just continue to shelter in place this evening and keep your windows and your doors closed," Shapiro said.
"The vinyl chloride contents of five rail cars are currently unstable and could potentially explode, causing deadly disbursement of shrapnel and toxic fumes," the governor's office said in a statement. "To alleviate the risk of uncontrollable shrapnel from an explosion, Norfolk Southern Railroad is planning a controlled release of the vinyl chloride at approximately 3:30 p.m. today."
Officials released a map showing a red zone and a yellow zone, downwind from the burn, with Norfolk Southern saying anyone who remains in the red area will be exposed to deadly toxins and anyone in the yellow area could suffer "skin burns and serious lung damage."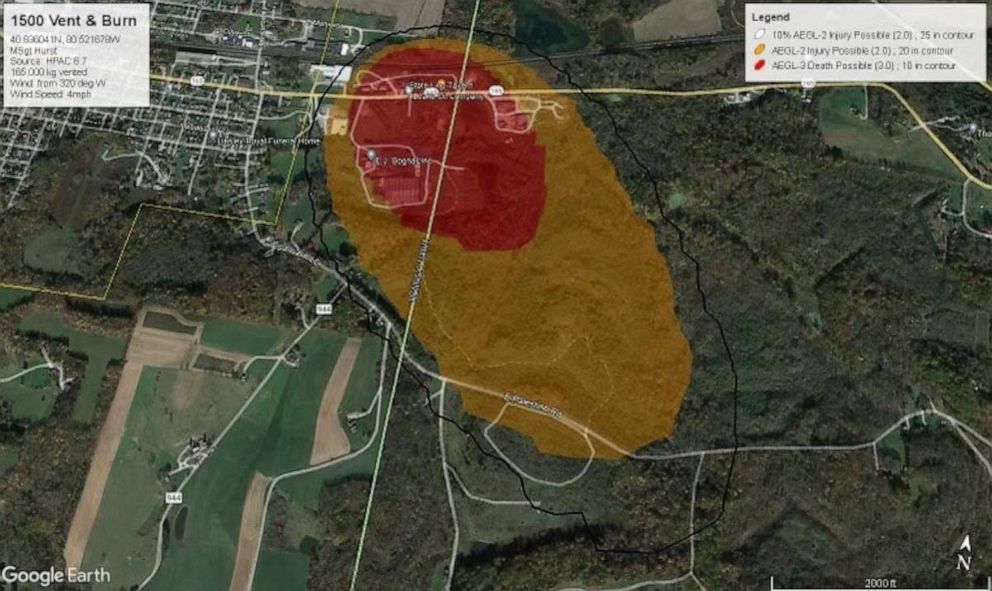 sources: pic.twitter.com/jRaYqavw9o

— 🏳️‍⚧️MILES/IMPY‼️MGADD = PEAK (@EVILWETBEAST) February 11, 2023
East Palestine, Ohio is undergoing an ecological disaster bc authorities blew up the train derailment cars carrying hazardous chemicals and press are being arrested for trying to tell the story.

Oh but UFO's!

What is going on?

pic.twitter.com/RULoF1oKJQ

— Rep. Marjorie Taylor Greene🇺🇸 (@RepMTG) February 12, 2023
More info came out about the chemicals on the train derailed in E Palestine OH. A hazmat specialist said ""We basically nuked a town with chemicals so we could get a railroad open"😭😭 this is what I was telling ya'll yesterday in the quote.
pic.twitter.com/UeGgaxSq7A

— Erin Elizabeth Health Nut News 🙌 (@unhealthytruth) February 13, 2023
But let's throw the journos out!
Body camera footage from Wednesday's arrest of a NewsNation correspondent shows the Ohio National Guard's adjutant general pushing the reporter during an argument at a press conference that state authorities held about a train derailment https://t.co/DtMoHUdV8w

— CNN (@CNN) February 10, 2023