The 6.5mm Grendel is an intermediate cartridge jointly designed by British-American armorer Bill Alexander, competitive shooter Arne Brennan and Lapua ballistician Janne Pohjoispää, as a low-recoil, high-precision rifle cartridge specifically for the AR-15 platform at medium/long range.
You've heard all the hype that the 6.5mm Grendel was designed for long-range shooting out of the AR-15 platform. Its incredible accuracy and low recoil have generated quite a stir amongst hog hunters, deer hunters, and long-distance shooting enthusiasts.
So you decided to check it out and purchase a 6.5 Grendel rifle.
However, you're not sure which ammo to buy, and you know if you don't load the best 6.5 Grendel ammo into your rifle, it won't perform up to your expectations.
Luckily, we tested and researched many options; then created this list to make your decision easier.
If you don't feel like reading the whole review, the Hornady Black 6.5 Grendel 123 Grain ELD is the best ammo overall for the 6.5mm Grendel.
The Best Ammo for the 6.5 Grendel On the Market
Hornady Black 6.5 Grendel 123 Grain ELD – Best Overall
Wolf Military Classic 6.5 Grendel 100 Grain FMJ – Best for Plinking
Prvi Partizan 6.5 Grendel 120 Grain HPBT – Highly Accurate
Best 6.5 Grendel Ammo Overall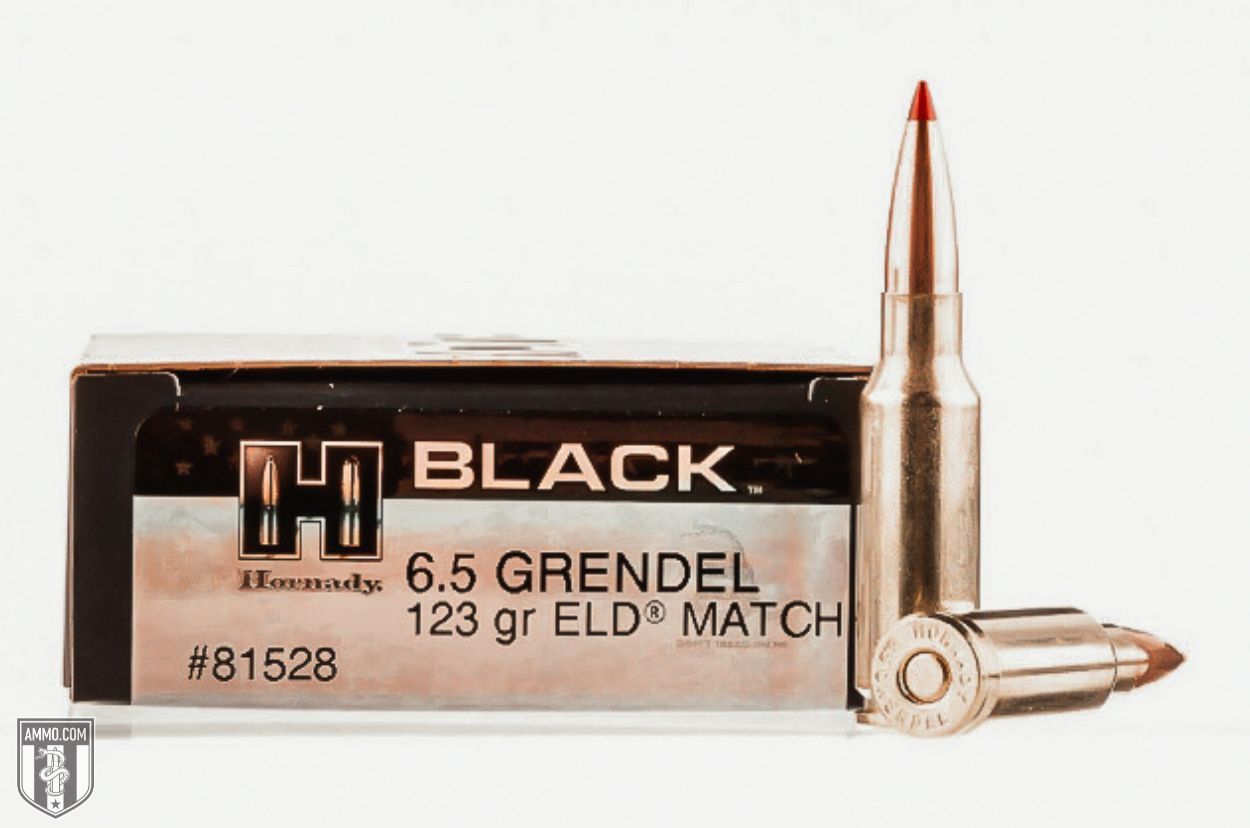 Shop Hornady Black 6.5 Grendel Ammo
Specs
Casing: Brass
Bullet Type: ELD Match
Bullet Weight: 123 grains
Muzzle Velocity: 2,580 fps
Muzzle Energy: 1,818 ft-lbs
Pros
Trusted brand
Accurate
High muzzle energy
Competition-level ammo
Cons
Expensive
Lower muzzle velocity
Why We Chose It
Hornady is one of the most trusted ammo brands because they consistently produce high-quality ammo, which you know will go bang when you pull the trigger.
The polymer-tipped ELD Match bullet used is incredibly accurate for competition shooters and hunters because it has the highest ballistic coefficient in its class, so it easily sheds the wind. and
However, as expected with competition-level ammo, it's expensive compared to plinking rounds. I recommend other cheaper options if you want to use this ammo for target shooting.
Though it has higher muzzle energy because of its heavier bullet, it also has a lower muzzle velocity for the same reason.
Overall the Hornady Black 6.5 Grendel 123Gr ELD is a great choice for long-range competition shooters, and the Hornady SST 6.5 Grendel is excellent for hunters.
Honorable Mention
If your gun isn't chambering Hornady ammo well, try Nosler Match Grade 6.5mm Grendel 123gr HPBT or Nosler Trophy Grade 6.5mm Grendel 129gr AccuBond rounds.
This ammo is more expensive per round, but Nosler projectiles are a favorite of many reloaders because of their outstanding accuracy.
The hollow point boat tail bullets are also great for whitetail deer hunting or for smaller varmints like coyotes, though don't confuse them with the Nosler ballistic tip bullets.
The spitzer boat tail bullets are for big game hunting, like larger deer and antelope, because they pack more punch with the added weight.
The muzzle velocity of the Nosler Match Grade is lower than the Hornady Black rounds, despite having bullets of the same weight.
The Nosler Trophy Grade muzzle velocity is lower than both rounds mentioned above due to the increased bullet weight.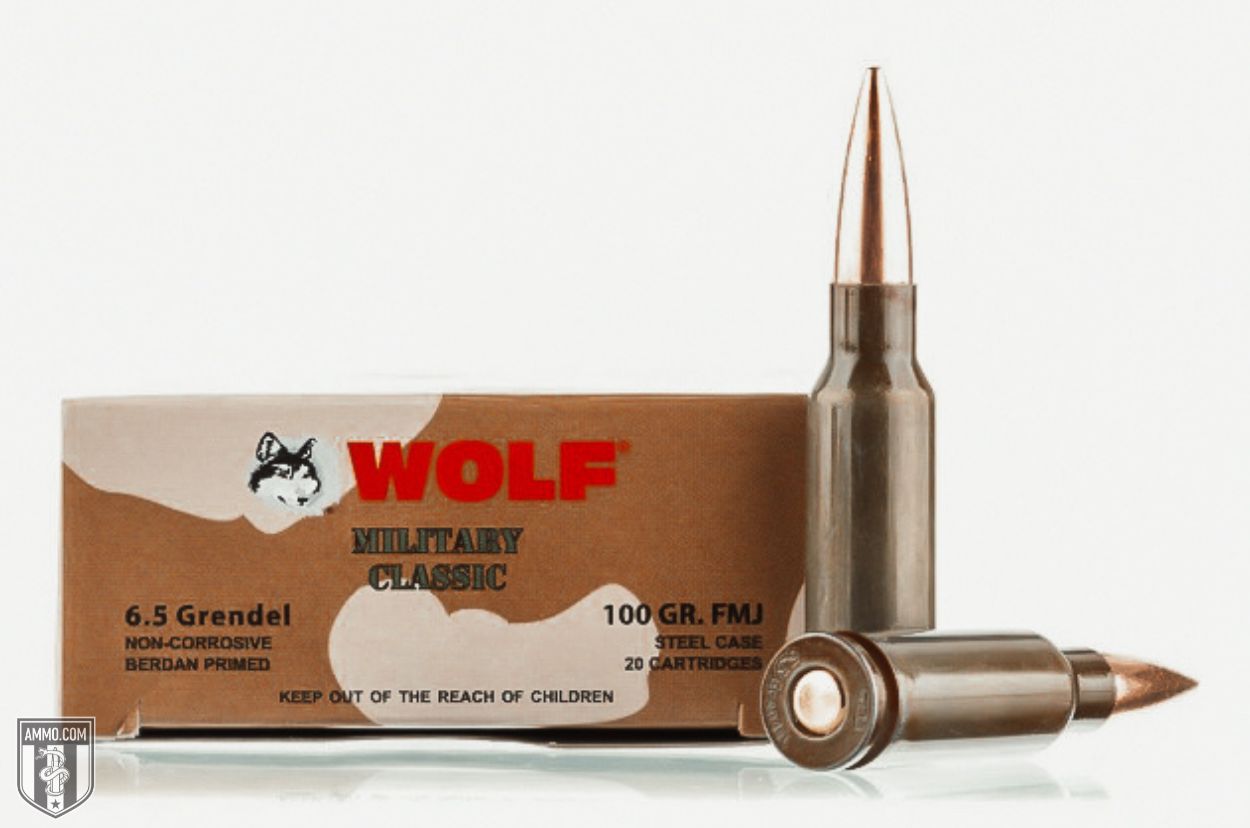 Shop Wolf Military Classic 6.5 Grendel Ammo
Specs
Casing: Steel
Bullet Type: Full Metal Jacket
Bullet Weight: 100 grains
Muzzle Velocity: 2,690 fps
Muzzle Energy: 1,607 ft-lbs
Pros
Inexpensive
Surprisingly accurate
High muzzle velocity
Cons
Steel casing – Not reloadable
Low muzzle energy
Why We Chose It
Wolf is known for producing low-cost quality ammo, and this 6.5mm Grendel ammunition is no exception.
Considering the price of this ammo, it's surprisingly reliable and accurate. You can achieve MOA groups with this factory ammo.
The biggest drawback for most shooters is the steel casing because it's not reloadable. However, you can purchase bulk 6.5 Grendel Wolf ammo to cut down the costs if that's a primary concern of yours.
It's commonly believed that Wolf Ammo is a Russian company, but this is false. The misconception comes from them selling ammo manufactured in the Tula Cartridge Plant located in Russia's Tula District.
The 100-grain bullet means less recoil in an already low recoil 6.5mm Grendel cartridge. However, you are sacrificing some muzzle energy because of the lightweight bullet.
If you're looking to spend a day punching holes with your AR-15 or bolt-action rifles, Wolf Military Classic 6.5 Grendel 100Gr FMJ gives you more trigger pulls for less money, which is why I recommend it.
If you plan to reload your spent casings, this is not the ammo for you.
Honorable Mention
You'll be hard-pressed to find 6.5 Grendel hunting and plinking ammo for less than Wolf prices, but if you prefer to reload your ammo and are willing to spend a little more, check out Alexander Arms 6.5 Grendel 123gr Lapua Scenar SBT.
Because these are brass casings, you can reload them after you've shot the factory ammo. The bullet is heavier, so you will notice a lower velocity but more energy.
The unique bullet design makes it ideal for hunting and home defense situations because it has better terminal ballistics and projectile fragmentation to cause more wounding for an ethical kill.
It also helps that Alexander Arms introduced the 6.5mm Grendel to the market, so they should know a thing or two about manufacturing 6.5 Grendel ammo.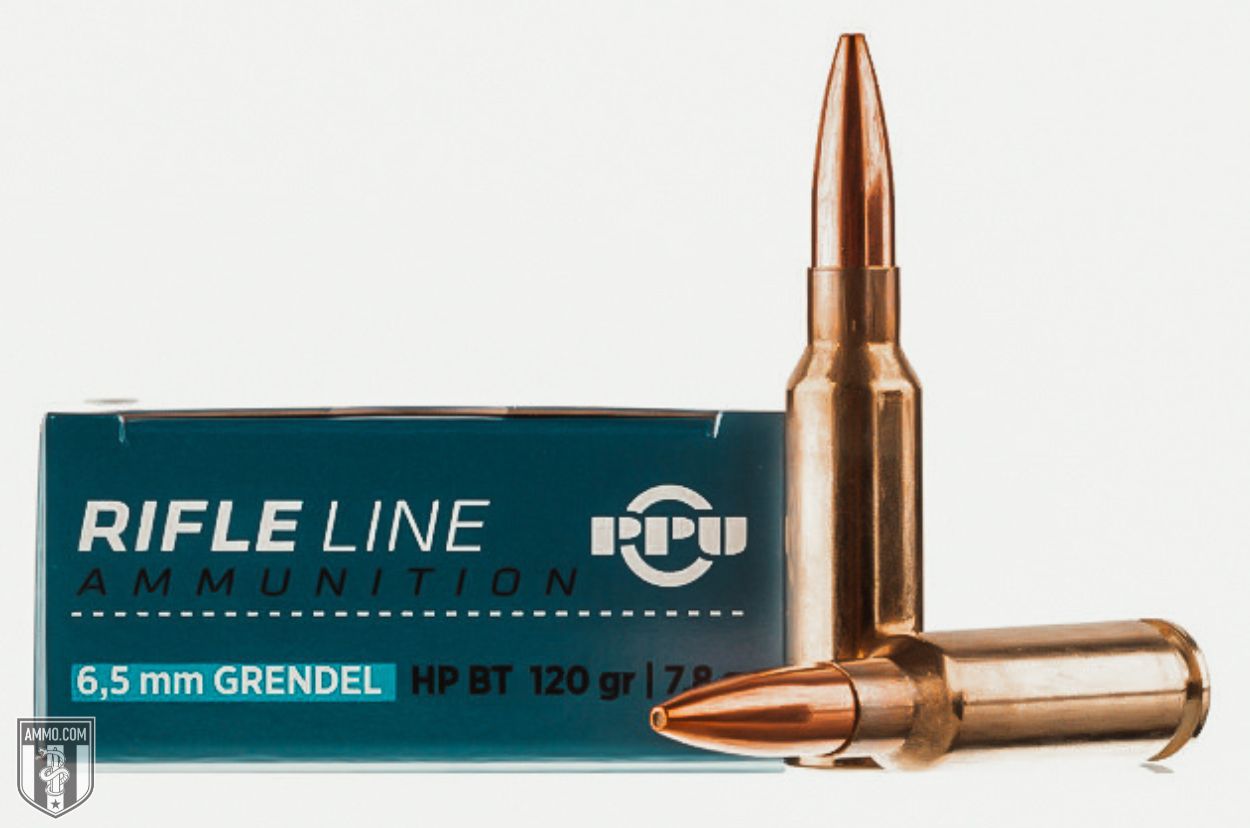 Shop Prvi Partizan 6.5 Grendel Ammo
Specs
Casing: Brass
Bullet Type: Hollow Point Boat Tail
Bullet Weight: 120 grains
Muzzle Velocity: N/A
Muzzle Energy: N/A
Pros
Consistent
Accurate
Reasonably priced
Boxer primers
Cons
Why We Chose It
Prvi Partizan makes reasonably priced, reliable ammo. When you pull the trigger, you should expect these rounds to go bang, thanks partly to the boxer primers.
It's not the cheapest ammo on the market; we've already determined that the most cost-effective ammo title belongs to Wolf, but Prvi Partizan 6.5 Grendel 120Gr HPBT is still more affordable than many other options.
It's also accurate and consistent, so whether you're punching holes in paper or using it as hunting ammo, you can count on it to hit where you were aiming if you've correctly sighted in your gun.
The biggest downside is that these rounds are difficult to find because they're reasonably priced.
Honorable Mention
Consider Barnes Vor-Tx 6.5 Grendel 115gr TTSX BT for reasonably priced hunting ammo.
These rounds are designed for big-game hunting. With a well-placed shot, the TTSX hunting bullet will stop any deer in its tracks.
It'll feel like you're shooting a 223 Remington with the shooting distance of a 308 Winchester, so no deer is safe in the woods where you hunt.
Buyer's Guide: What to Look for in 6.5 Grendel Ammo
Purchasing ammo can be confusing, whether you're buying it for your 300 Blackout bolt-action rifle, 6.5mm Creedmoor, or 6.5 Grendel.
However, you can help make the decision easier on yourself in a few ways.
First, set a budget.
Determine how much you will spend on ammo and stick to it. We will discuss a few ways to save money on ammo later in the article.
Second, decide what you'll use the ammo for; if you plan to use it for hunting, you'll need different ammo than you would if you plan to shoot steel targets.
This will also help you know which type of bullet you should look for when buying ammo.
Lastly, test which ammo works best in your firearm and stick with it.
You'll need to experiment to find the best 6.5mm Grendel ammo for your situation, but that's the fun part! Also, the expensive part…
Common 6.5 Grendel Bullet Types
As I mentioned above, different 6.5 Grendel bullets have various purposes.
Some bullets are better for hunting, while others are designed for target shooting. No matter how you intend to use your rifle, you should know the standard bullets and their intended purposes.
HPBT
Hollow Point Boat Tail bullets are used for long-range big game hunting. They're highly accurate, especially when you add a polymer tip like Hornady SST or the Barnes TTSX BT.
They also cause more damage due to the way they expand, which means a more ethical kill, so the animal doesn't suffer.
I don't typically recommend rifles for home defense; however, if you need to use one, I recommend grabbing a hollow-point bullet because they're less likely to over-penetrate.
SBT
The Spitzer Boat Tail or Nosler Ballistic Tip is the same as an HPBT bullet, as far as common uses go.
JHP
A Jacketed Hollow Point bullet is a step down from the two above. A JHP doesn't have a polymer tip or beveled bottom to increase accuracy.
They're not as good for long-distance shooting, but they are cheaper than the more technologically advanced bullets on the market.
JHP bullets are suitable for close-range hunting and home defense, which is why you find so many in handgun calibers.
FMJ
The cheapest ammo for 6.5 Grendel will be rounds with Full Metal Jacket bullets.
These bullets are best for plinking. They're not known for being overly accurate or for long-distance shooting, but they're great for hanging out at the gun range, ringing steel, or punching holes.
Bullet Weights for the 6.5mm Grendel Cartridge
Below you'll find the most common bullets for the 6.5 Grendel-
90gr
100gr
105gr
115gr
120gr
123gr
129gr
130gr
Choosing the best bullet weight for your situation is essential because each weight has pros and cons.
Lighter bullets like 90 to 115-grains have much higher velocities and lower recoil than heavier bullets. However, they lack knockdown power and muzzle energy and are more affected by the wind.
That's why hunting rounds often opt for heavier bullets and sacrifice a little velocity.
You'll notice that your gun prefers specific bullet weights as you shoot more. So feel free to experiment with several different weights until you find the one that works best with your gun.
How to Save Money When Buying the Best 6.5 Grendel Ammo
As you've noticed, 6.5mm Grendel ammo is costly. Therefore, we should have a few ways to save money on ammo to visit the range more often.
I use three ways to save money on ammo: buying in bulk, reloading, and combining the two.
Buying in Bulk
When you buy bulk 6.5mm Grendel ammo, you'll spend more initially. However, when you count the cost per round, you can save nearly $0.20, which doesn't sound like a lot until you factor that in 500 to 1,000 rounds. That's roughly a $100 savings for 500 rounds and a $200 savings for 1,000 rounds.
However, high-quality bulk ammo is difficult to find, so feel free to snatch it up when you see some.
Reloading
Reloading is another way to save money on ammo, but it costs more upfront if you still need a reloading press and all the supplies.
Once you've purchased all the reloading equipment and supplies, the cost per round depends on how fast you pump out rounds.
The best thing about reloading is how much more you can dial in the perfect round for your rifle instead of relying on factory ammo.
By reloading and buying in bulk, you can maximize your savings. First, purchase quality bulk ammo that doesn't have steel casings. Then take it to the range and have fun! Next, collect your spent brass, bring it home, and reload it.
Brief History of the 6.5mm Grendel
Alexander Arms introduced the 6.5mm Grendel at the 2004 SHOT Show. Bill Alexander developed it as an intermediate caliber that would outperform the 5.56×45 round and would be effective up to 800 yards. It also needed to be chambered in the AR-15 platform.
The resulting cartridge has a "necked up" case based on the 6mm PPC bench rest cartridge.
The cartridge holds four-inch groups at 600 yards, a level of accuracy that makes it popular among varmint hunters. It retains more energy throughout its flight due to the good ballistic coefficient of the bullet, as well as the shape and size of the case.
This round does not require as much powder to generate the amounts of energy found in similar cartridges, which results in less recoil and longer barrel life.
Wide-spread adoption of the 6.5 Grendel was somewhat hindered by Bill Alexander himself, as he insisted that the cartridge be trademarked and, therefore, could not be standardized by SAAMI.
However, in collaboration with Hornady Ammunition, Alexander Arms registered the 6.5 Grendel with SAAMI in 2010. Allowing other manufacturers to create and sell 6.5 Grendel ammo greatly expanded the cartridge's reach.
As the 6.5 Grendel is still a relatively new cartridge on the market, it has developed a dedicated following who enjoy the terminal ballistics of a 308 Winchester without upgrading to an AR-10.
With incredible long-range capability, extended barrel life, and MOA-level accuracy, the 6.5 Grendel is an excellent choice if you want to upgrade your AR-15 platform to something with more stopping power than a 223 Rem with similar recoil.
6.5 Grendel Ballistics
Note: This information comes from the manufacturer and is only informational. The actual ballistics obtained with your firearm can vary considerably from the advertised ballistics. Also, ballistics can vary from lot to lot with the same brand and type load.
Parting Shots
Choosing the best 6.5 Grendel ammo depends on whether you're long-range target shooting or hunting.
The Hornady Black 6.5 Grendel 123 Grain ELD does an excellent job of covering both instances; however, if you're looking for an inexpensive round, go with the Wolf Military Classic 6.5 Grendel 100Gr FMJ.
Back to the Best 6.5