Having written about serious and depressing coronavirus-related issues during the week, it's time for some politically-themed coronavirus humor.
Regular readers know that I'm a long-time proponent of this message for healthy thinking.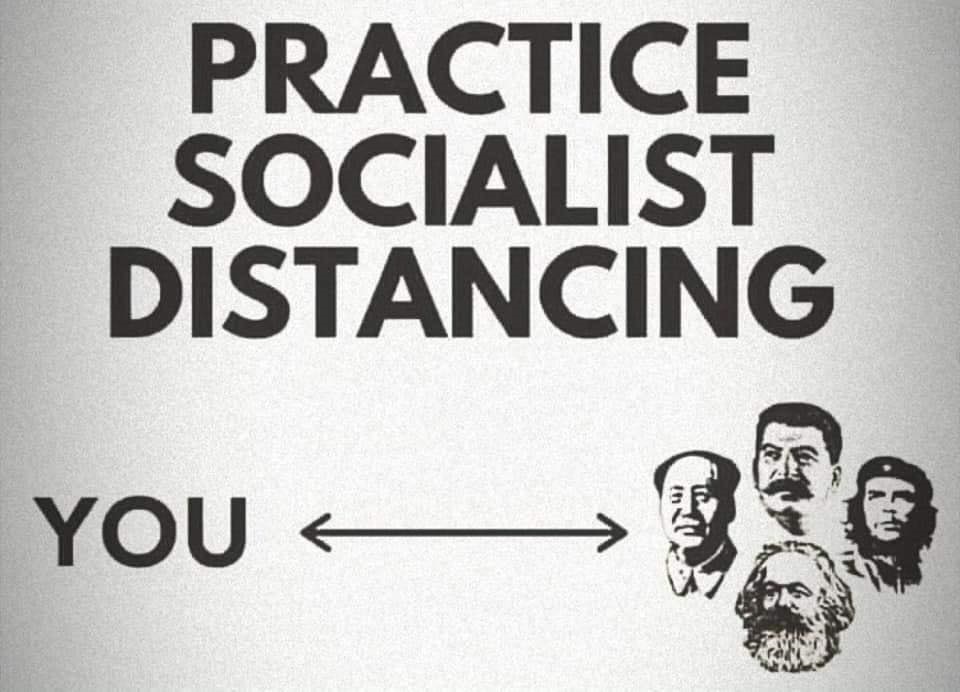 Moreover, I think it's safe to say that coronavirus won't come close to killing as many people as the various strains of socialism.
Here's some humor based on Dr. Trump's latest medical advice.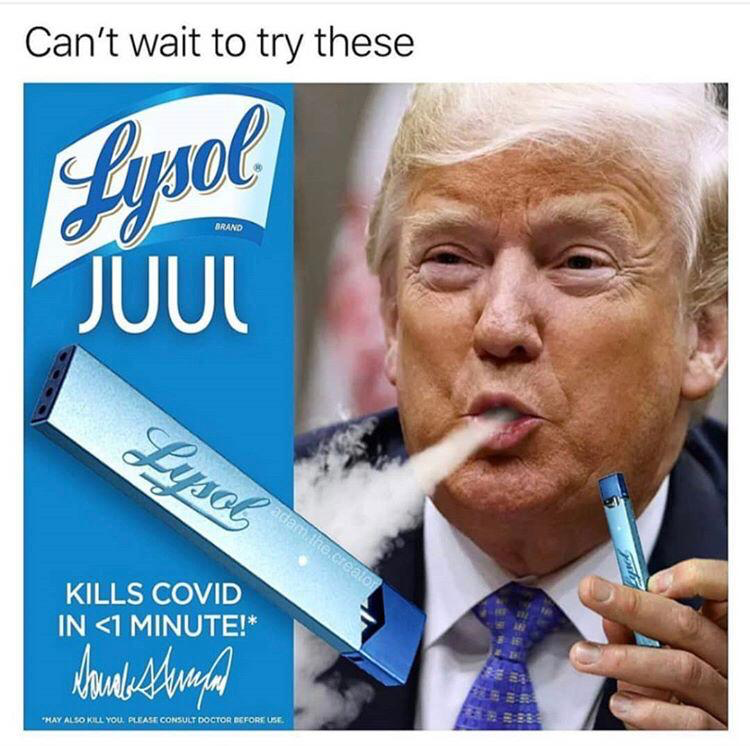 The coronavirus is bad for the nation, but it's given the crowd in Washington a reason to engage in their favorite activity.
Which leads America's best satire site, Babylon Bee, to report on a crime wave.
A nefarious gang of masked bandits has voted to steal another $500 billion from your grandchildren, investigators confirmed Thursday. The mysterious masked culprits…have not been apprehended yet and so are continuing to plot more heists. …"It's the perfect crime," said the gang's ringleader, cackling, as she approved the plan to rob your grandchildren of their future. "We print the money, we borrow the money, then we're gone before the bill comes due. The plan is flawless!"
Well, not quite flawless.
Here's the latest version of a very recognizable meme.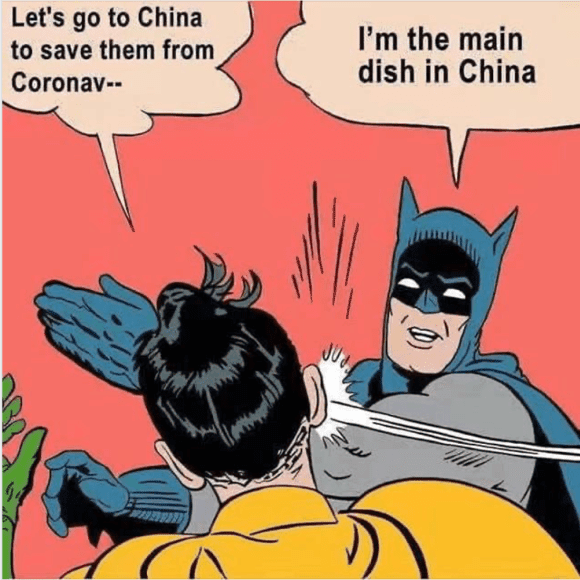 Fortunately, I've never seen bats on the menu as part of my travels to China.
Here's another jab at Trump's medical advice.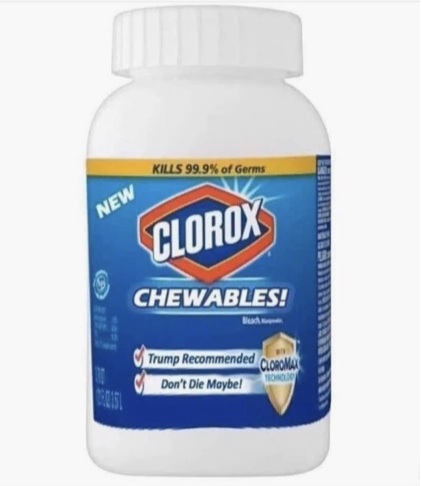 Here are some excerpts from another report published by Babylon Bee, this one dealing with the petty tyrants in flyover country.
On Meet the Press Sunday, Michigan Governor Gretchen Whitmer reminded everyone that "revolutions and revolts are simply un-American." Whitmer called on the protesters in her state to stop their illegal assembling, reminding them that protesting so-called tyranny is a foreign idea to the history of the United States. …"It flies in the face of every American tradition. Revolting against tyranny has no place in this great country." Governor Whitmer then rattled off a long list of things that she also believes to be un-American: …Declaring independence from tyrants… Having a list of protected rights… Separation of powers… Freedom of religion, assembly, the press, protests, and speech… Federalism… "If you're really Americans, you'll stop with this dangerous revolutionary activity," she concluded.
Here's a clever image that applicable if you recognize there are tradeoffs.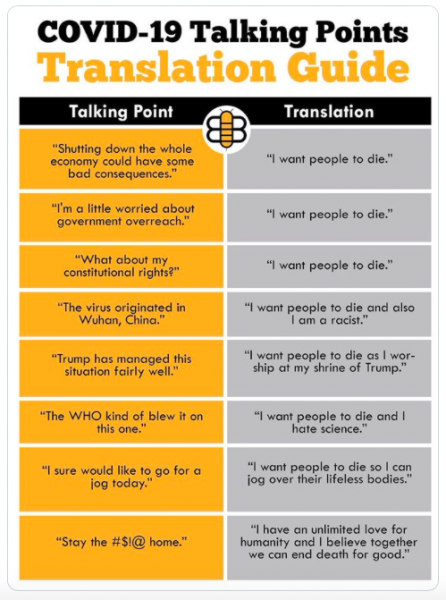 Since I've written about the economic tradeoffs, I obviously want people to die.
Here's a report from the Babylon Bee on a big increase in severe cases.
America suffered its highest one-day increase in cases of Trump Derangement Syndrome yesterday, adding 317,259 new cases. This brought the number of U.S. cases to roughly 59 million, while worldwide cases of the deadly disease increased to 110 million. The peak in cases was brought on by President Trump's growing urgency to reopen the economy and allow people to go back to work. Scholars have noted that this is equivalent to slavery. …"Our models have been quite accurate from day one," claimed Ron Whitley of the University of Washington.  "And we don't see a peak here. Our data suggests a slow increase in cases through the summer, and then a big peak in cases about November 4 or so."
Next, we have an actual photograph of a restaurant window across for the Treasury Department, but, if we believe in truth in advertising, the reflected sign may as well be a banner hanging from all government buildings.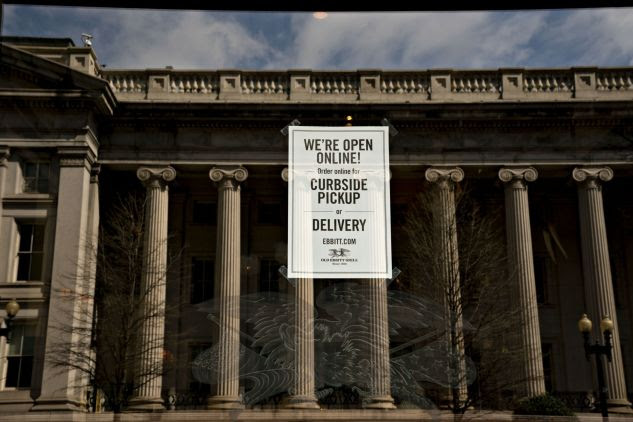 The moral of the story, needless to say, is that big government enables big corruption.
Here's another amusing story from Babylon Bee.
Congress has asked all non-essential businesses to limit their hours or close entirely for an undetermined amount of time. But this shutdown mistakenly shut down the most non-essential entity of all: the government. …"Oops," said Senator Mitch McConnell. "We meant non-essential private businesses.Of course, the government is always essential, even when it's not doing anything or is making things worse." Senators, congresspeople, and bureaucrats frantically rewrote the ban to include only businesses that actually produced something and not government agencies that just watched other people make stuff. …they passed this revision in record speed, almost as quickly as they vote for pay raises for themselves. Speaker of the House Nancy Pelosi said she would have caught the mistake but had passed the ban in a hurry, saying, "We had to pass the ban to see what it did."
Reminds me of some of the jokes from when we have a government shutdown.
I've saved my favorite image for last.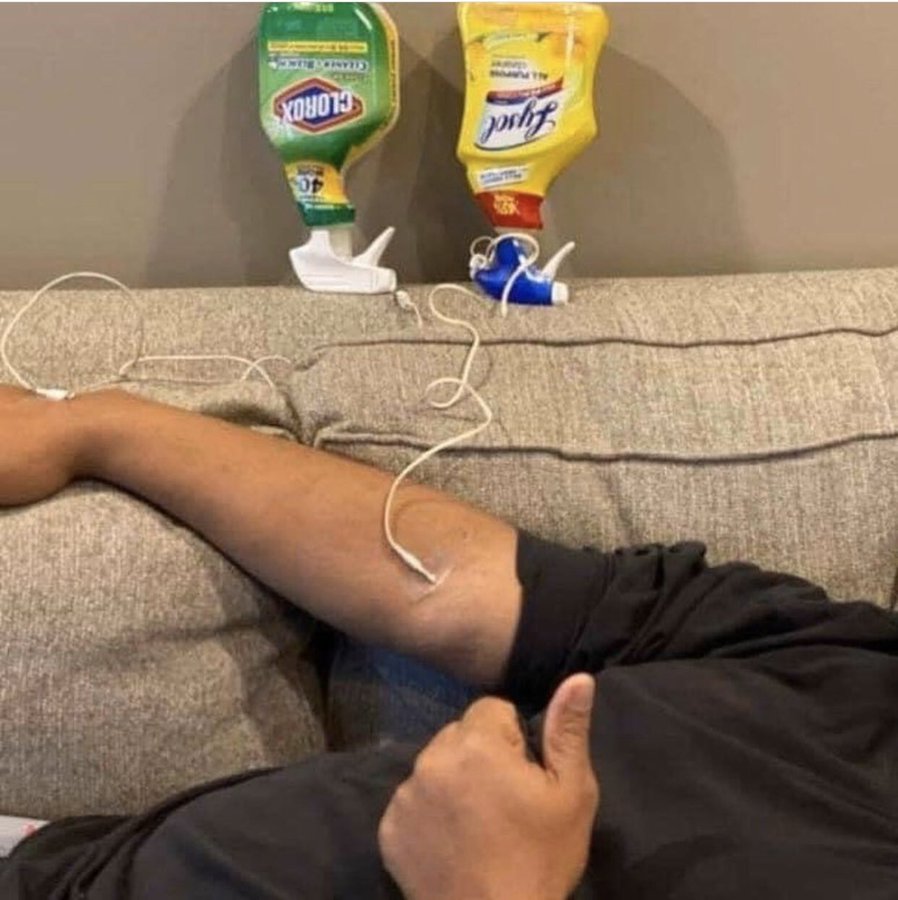 Here are the previous editions of coronavirus humor.
Daniel J. Mitchell is a public policy economist in Washington. He's been a Senior Fellow at the Cato Institute, a Senior Fellow at the Heritage Foundation, an economist for Senator Bob Packwood and the Senate Finance Committee, and a Director of Tax and Budget Policy at Citizens for a Sound Economy. His articles can be found in such publications as the Wall Street Journal, New York Times, Investor's Business Daily, and Washington Times. Mitchell holds bachelor's and master's degrees in economics from the University of Georgia and a Ph.D. in economics from George Mason University. Original article can be viewed here.
Self-Reliance Central publishes a variety of perspectives. Nothing written here is to be construed as representing the views of SRC.